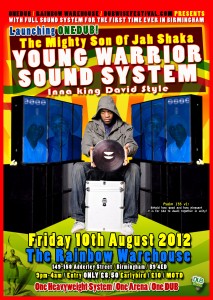 ONEDUB / Rainbow Warehouse / www.dubwisefestival.com PRESENTS
FOR THE FIRST EVER TIME IN BIRMINGHAM
?? The Mighty Son of Jah Shaka
YOUNG WARRIOR
FULL SOUND SYSTEM ??
+ + LIVE PA BY ONE OF THE UKs GREATEST YOUNG MCS
I JAH
* ONE DUB*
One Arena, One Heavyweight Sound, One Love
ONE DUB in association with Rainbow Warehouse Birmingham and Dubwisefestival, launches a new Roots Rock Dub Reggae event this summer – August 10th 2012 in the 2nd City of Birmingham.
To bless the house with with his brand new, Full Heavyweight Sound System..for the first time ever in Birmingham, The Mighty Son of Jah Shaka – YOUNG WARRIOR SOUND SYSTEM!! playing inna King David style…spreading Jah message following in the footsteps of his legendary father, the original Zulu Warrior – JAH SHAKA hailing outta London UK.
ONE DUB calls all nations to come together in peace, love and unity for a night of spiritual upliftment and witness history in the making….
? Limited Earlybird £8.50 tickets!!
https://www.theticketsellers.co.uk/tickets/young-warrior-sound-system/10019769
£8.50 / £10 / MOTD
? The Rainbow Warehouse
149-150 Adderley Street / Birmingham / B9 4ED
? Ticket Outlets:
Hatman: 0121 236 1477
Humal Records: 0121 551 7060
Summit Records (Dudley Road City Centre): 0121 455 8844 / 0121 622 1158
Ticketsellers: 0844 870 0000
? Travel: 10 mins walk from Birmingham New Street & Moor Street Train Stations & 5 mins walk from Birmingham Coach Station. Buses:  17, 50, 58, 59, 60, 73, 97, 900, 3, 6, 31, 2 & 957
? Information:
info.onedub@googlemail.com
0742 942 4229
I JAH – The Lion Is Coming (Live)