Description
THIS IS AN E-TICKET.
ONCE YOU HAVE PURCHASED SIMPLY SAY & SHOW NAME ID AT BOX OFFICE FOR ENTRY
– NO PHYSICAL TICKET REQUIRED –
A Night Of DUB REGGAE & SUNSHINE By Popular Demand!
The Prince Of Dub Sound System
YOUNG WARRIOR
SOUND SYSTEM 2.0
'THE REBIRTH' UK & EUROPEAN TOUR 2022!
"The Time Has Come!"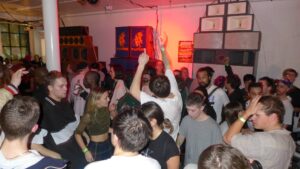 FRIDAY 29 JULY 2022
@ Brighton Electric
, Tramway House, 43-45 Coombe Terrace
Lewes Road, Brighton, BN2 4AD
7PM-12AM
LIMITED 150 CAPACITY ONLY
The Prince Of Dub Sound System Returns To Dancefloors With A Brand New Sound System
After Devastating Theft In 2021 Lockdown.
With The True Help Of His Fans & Supporters Young Warrior Has Been Able To Rebuild A New & Special Vehicle To Bring Together All Nations & Generations In The Development & Preservation Of Rootical Dub Sound System Culture!
ADVANCE TICKETS
: £9+ £1.50 b/f (£10.50)
More On Door
||| TOUR DATES |||
8 APRIL – LONDON @ FOLD
15 APRIL – LEICESTER @ 2FUNKY MUSIC CAFE
23 APRIL – BRISTOL @ MALCOLM X CENTRE
30 APRIL LONDON EXTRA SHOW @ GOLDSMITHS SU New Cross
6 MAY MANCHESTER @ GORILLA M1 5WW
25 & 26 JUNE – LONDON BURGESS PARK
29 JULY BRIGHTON @ BRIGHTON ELECTRIC BN2 4AD