Dub is genre of music which grew out of reggae music in the 1960s, and is commonly considered a sub genre, though it has developed to extend beyond the scope of reggae.
Music in this genre consists predominantly of instrumental remixes of existing recordings and is achieved by significantly manipulating and reshaping the recordings, usually by removing the vocals from an existing music piece, emphasizing the drum and bass parts (this stripped down track is sometimes referred to as a 'riddim'). Other techniques include dynamically adding extensive echo, reverb, panoramic delay, and occasional dubbing of vocal or instrumental snippets from the original version or other works. Dub also sometimes features electronically generated sound effects, or the use of distinctive instruments such as the melodica.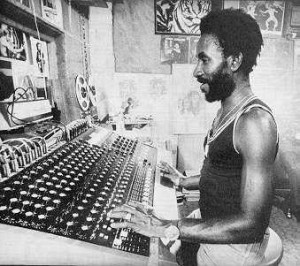 Dub was pioneered by Osbourne, King Tubby, Ruddock, Lee Scratch Perry, Errol Thompson and others in the late 1960s. Similar experiments with recordings at the mixing desk outside of the dancehall environment were also done by producers Clive Chin and Herman Chin Loy. These producers, especially Ruddock and Perry, looked upon the mixing desk as an instrument, manipulating tracks to come up with something ne wand different. Dub has influenced many genres of music, including rock (most significantly the sub-genre of post-punk and other kind of punk), pop, hip hop, disco, and, later, house, techno, ambient, and trip hop (the original Bristol sound was very dub like); it has become a base for Jungle, Drum & Bass and Dubstep. Today, the word 'Dub' is used widely to describe the reformatting of music of various genres into typically instrumental, rhythm-centric adaptations.
The verb dub is defined as making a copy of one recording to another. The process used by Jamaican producers when making dubs was to use previously recorded material, modify the material, and subsequently record it to a new master mix, in effect transferring or 'dubbing' the material. The therm dub had multiple meanings in Jamaica around the time oft he music's origin. The most frequent meanings referred to either a form of erotic dance or sexual intercourse; such usage is frequently present in names of reggae songs, for instance, of The Silvertones "Dub the Pum Pum" (where pum pum is Jamaican slang for female genitalia), Big Joe and Fay's "Dub a Dawta" (dawta is Jamaican slang for girlfriend).
Some musicians, for instance Bob Marley and The Wailers, had their own meaning for the term dub. In concert, the order "dub this one!" meant "Put an emphasis on bass and drums". Drummer Sly Dunbar points to a similar interpretation, relating the term dubwise to using only drums and bass.
Another possible source was the term dub plate, as suggested by Augustus Pablo. John Corbett has suggested that dub could derive from duppie, a Jamaican patois word for ghost, as illustrated by Burning Spear having named the dub version of his Marcus Garvey album Garvey's Ghost , and by Lee Perry stating that dub is "The ghost in me coming out".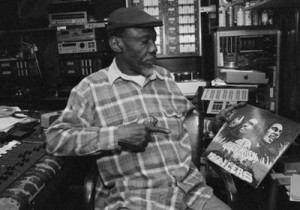 Dub music is characterised by a 'version' or 'double' of an existing song, often instrumental, using B-sides of 45 RPM records and typically emphasizing the drums and bass for a sound popular in local sound systems. The instrumental tracks are typically drenched in sound effects such as echo, reverberation, with instruments and vocals dropping in and out of the mix. Another hallmark of the dub sound is the prominent use of bass guitar. The music sometimes features other noises, such as birds singing, thunder and lightning, water flowing, and producers shouting instructions at the musicians. It can be further augmented by live DJ's. The many-layered sounds with varying echoes and volumes are often said to create soundscapes, or sound sculptures, drawing attention tot he shape and depth oft he space between sounds as well as the sounds themselves. There is usually a distinctly organic feel tot he music, even though the effects are electronically created.
Often these tracks are used for 'toasters' rapping heavily rhymed and alliterative lyrics. These are called 'DJ Versions'. In forms of sound system based reggae, the performer using a microphone is referred to as the 'DJ' or 'deejay' (where in other genres, this performer might be termed the 'MC', meaning 'Master of ceremonies', 'Microphone Commander' or 'Mic Control'), and the person choosing the music and operating the turntables is called the 'selector' (sometimes referred to as the DJ in other genres).
Dub music and toasting introduced a new era of creativity in reggae music. From their beginning, toasting and dub music developed together and influenced each other. The development of sound system culture influenced the development of studio techniques in Jamaica, and the earliest DJ's, including Duke Reid and Prince Buster among others, were toasting over instrumental versions of reggae and developing instrumental reggae music.
Versions and experiments with studio mixing (Late 1960s)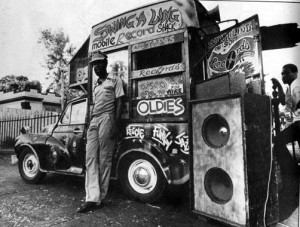 In 1968, Kingston, Jamaica sound system operator Ruddy Redwood went to Duke Reid's Treasure Isle studio to cut a one-off dub plate. Engineer Byron Smith left the vocal track out by accident, but Redwood kept the result and played it at his next dance with his deejay Wassy toasting over the rhythm. The instrumental record excited the people at the sound system and they started singing lyrics of the vocal track over the instrumental. The invention was a success, and Ruddy needed to play the instrumental continuously for half an hour to an hour that day. The next day Byron Lee who was a witness to this, told King Tubby that they needed to make some more instrumental tracks, as "them people love" them, and they dubbed out vocals from "Ain't Too Proud To Beg" by Slim Smith. Because King Tubby's innovate approach, the resulting instrumental track was more than just a track without a voice – King Tubby interchanged the vocals and the instrumental, playing the vocals first, then playing the riddim, then mixing them together. From this point on, they started to call such tracks "versions". Another source puts 1967 and not 1968 as the initial year oft he practice of putting instrumental versions of reggae tracks tot he B-side of records. At Studio One the initial motivation to experiment with instrumental tracks and studio mixing was correcting the riddim until it had a "feel", so a singer, for instance, could comfortably sing over it. Another reason to experiment with mixing was rivalry among the sound systems. Sound systems' sound men wanted the tracks they played at dances to be slightly different each time, so they would order numerous copies oft he same record from a studio, each with a different mix.
Evolution of dub as a sub-genre (1970s)
By 1973, through the efforts of several independent and competitive innovators, engineers, and producers, instrumental reggae « versions » from various studios had evolved into « dub » as a sub-genre of reggae. Errol Thompson engineered the first strictly instrumental reggae album, entitled The Undertaker by Derrick Harriott and the Crystallites. This album was released in 1970. This innovative album credits "Sound Effects" to Derrick Harriott. In 1973, at least three producers, Lee "Scratch" Perry, and the Aquarius studio engineer/producer team of Herman Chin Loy and Errol Thompson simultaneously recognized that there was an active market for this new "dub" sound and consequently they started to release the first albums strictly consisting of dub. Lee Perry released Blackboard Jungle Dub in the spring 1973. It is considered a landmark recording of this genre. In 1974, Keith Hudson released his lassic Pick a Dub, widely considered to have been the first deliberated thematic dub album, with tracks specifically mixed in the dub style fort he purpose of appearing together on an LP, and King Tubby released his two debut album At The Grass Roots of Dub and Surrounded by the Dreads at the National Arena.
Recent History (1980 – present)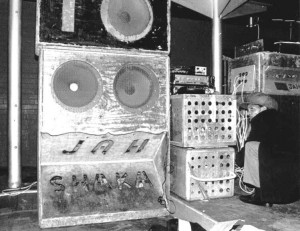 Dub has continued to evolve, its popularity waxing and waning with changes in musical fashion. Almost all reggae singles still carry an instrumental version on the B-side and these are still used by the sound systems as a blank canvas for live singers and DJ's. In the 1980s, Britain became a new center for Dub production with Mad Professor and Jah Shaka being the most famous, while Scientist became a standout artist of the era. It was also the time when dub made its influence known in the work of harder edged, experimental producers such as Adrian Sherwood and the roster of artists on his On-U Sound label. Many bands characterized as post-punk were heavily influenced by dub. Better-known bands such as The Police, The Clash and UB40 helped popularized Dub, with UB40's Present Arms in Dub album being the first dub album to hit the UK top 40. Dub music and toasting introduced a new era of creativity in reggae music. From their beginning, toasting and dub music developed together and influenced each other. The development of sound system culture influenced the development of studio techniques in Jamaica, and the earliest DJ's, including Duke Reid and Prince Buster among others, were toasting over instrumental versions of reggae and developing instrumental reggae music.