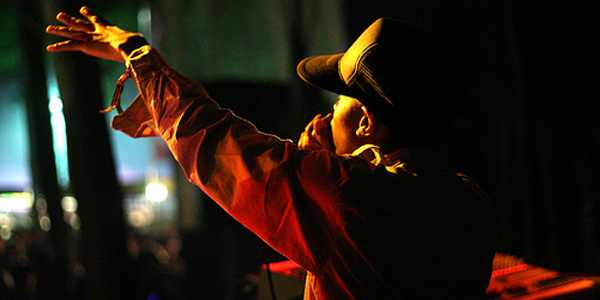 Young Warrior is son of the historic dub legend Jah Shaka. Playing out for numerous years all over Europe he has developed his own unique sound generating a following all over.
The Young Warrior has worked as a producer for many years now working with the likes of Jah Shaka, Gussie P, Mafia & Fluxy, Ras Muffet and many more.?? He has recorded soon to be released tracks with ever rising UK female artist Lexxy and South East London's well known Rockaway, Sandeeno, Sister Beloved and many more to be added to his list.?? Many of the Young Warrior's productions have been played by sound systems like Iration Steppas, Jah Voice, Tabot sound and most of all the great Jah Shaka sound system. In August 2006 the Young Warrior gave a special one off interview for the BBC on BBC Three counties radio with Ras Kush of which gained listeners all over the world tuning in to hear the Young Warrior talk personally for the first time in this one away interview. He has also given interviews for the Musically Mad documentary & Touch Magazine.
In 2011 Young Warrior was asked to represent UK dub reggae culture on BBC 1Xtra for black history month on Mistajams 'Daily Dose' programme to be entitled 'The Daily Dose Of Dub'; which saw him talking about his various experiences begin the son of jah shaka & also explaining an introduction to dub music for 1Xtra's fellow young listeners. These series of shows which spanned across three days became so popular among listeners he was asked to return in 2012 & gave an exclusive sound system style megamix series of special songs for Black History Month.
The Young Warrior's DJ sets of which he started his public career taking him far & wide has a very new however old school sound playing roots & culture dub music from the 70's till now in the traditional Shaka warrior style connecting with the elders who attend Shaka dances but also with the younger and new generation so they can also get a piece of his own musical message. In 2011 after many years of demand young Warrior launched his very own build sound system at Dubwise Festival 2011 alongside King Alpha Sound System at the Brixton Mass music venue in London's Brixton. Since launching his sound system he has played alongside many big well known sound systems such as Iration Steppas, Jah Tubbys, Jah Youth, Channel One, King Shiloh & many more.
One of his sound system career pinnacle points so far was to Launch now Birmingham's biggest premier dub sound system event, OneDub at the Rainbow Warehouse. This night would be the very first time taking his full sound system on the road for the very first time & taking over such a massive space alone. To date many people still talk about this night as one of the best & long awaited events to take place in Birmingham.
In March 2013 Young Warrior takes part in one of, if not the biggest Dub 3 day festivals in the UK rightly called 'The United Nations Of Dub Weekender' in Wales. With so many names to mention he has been selected out of so many with 6 others including his father Jah Shaka of course to bring their sound systems to the event.
Look out for the Young Warrior spreading his own special message to the people all over the world!
Young Warrior @ Teachings In Dub / Bristol
Young Warrior meets Rockaway Album

Young Warrior 'Dancing Time Riddim'

Young Warrior 'Daily Dose Of Dub' BBC 1Xtra (Part 1 & 2)

Young Warrior 'Daily Dose Of Dub' BBC 1Xtra (Part 3)
Young Warrior Last Interview Of 2012
Young Warrior Sound System FIRST DANCE @ Dubwise Festival 2011
Young Warrior Sound System Launches ONEDUB Birmingham
Past events include:
The Dubwise Carnival Festivals
Mexico 3 date tour March 2012
Reggae Geel Festival
Young Warrior meets Dubateers – Nov 2010
Young Warrior meets King Earthquake (Teachings in dub + Tokyo Dub)
Dubwise ft. Dub Judah – Ghent Belgium
Geneva Dubclub ft. Dubkasm & Cultural Warriors
Jungle dub splash ft Iration Steppas & Murray Man (London 2011)
UK's New women of reggae parts 1 and 2 featuring Lexxy, Sister Beloved, Sister Eartha Zakeyah & Principal
Subdub (2007-2011) – Leeds with Iration Steppas sound system
Geneva DubQwake with OBF, Coptic and Lion youth sound system
Ireland with Rootical Sound & Mighty Tabot Sound System
Festipop Music festival 2008 (South of France)
Anually at Brockwell Park Town and country show (London)
The original DubClub reunion at Cargos London with JNR International
La Manekine with Irdren Natural, Coptic sound, Community sound system 2007 (North of France)
Sat 7th July 2012 : Young Warrior Sound System & Channel One @ The Music Cafe Leicester
Fri 10th August 2012 : Young Warrior Sound System @ ONEDUB – Rainbow Warehouse Birmingham
Sun 26th August 2012 : Dubwise Carnival Festival – Brixton Jamm London
Fri 7th September 2012: Young Warrior Sound System & Jah Lokko Sound @ Bristol Dub Club – The Black Swan
Sat 15th September 2012: Young Warrior Sound System & Unique Sounds System @ Bar A Bar – Stoke Newington Road London
Fri 5th October 2012: Young Warrior Sound System & Jah Tubbys & King Shiloh @ Tudor Rose Southall
Young Warrior's recent releases include:
Rockaway meets Young Warrior – Chapter One 12" (1st solo produced album) YW005
Young Warrior Presents 312 Various Artists (yw009)
Young Warrior Presents Sista Beloved – Woman Of Virtue
Young Warrior Presents Principal – Know H.I.M
Young Warrior Presents Dub Box (yw008)
Stop your fighting 7" – Rockaway
Word is Jah 7" – Principal
Freedom Of The Land – Sister Beloved 7" (Jah Shaka Music Label) YW002
Lead Me To The Rock – Lexxy 7" (Jah Shaka Music Label) YW0001
Download Young Warrior Albums HERE