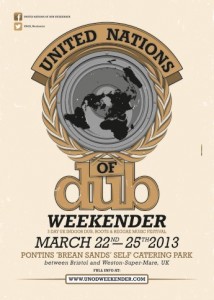 THE LINE UP:
———— On Their Own Sound System———-
JAH SHAKA
CHANNEL ONE
JAH TUBBY'S
ABA SHANTI-I
IRATION STEPPAS
KING EARTHQUAKE
KIBIR LA AMLAK
YOUNG WARRIOR
————————————————
ALPHA & OMEGA ft DAN-I, PAUL FOX + JONAH DAN
BUSH CHEMISTS
MANASSEH ft DARK ANGEL + KENNY KNOTTS
SISTA AISHA
MARTIN CAMPBELL
NUCLEUS ROOTS
VIBRONICS
MUNGO'S HI-FI
DUBKASM
DUBATEERS ft CHARLIE P
OBF ft. SHANTI D (FR)
BLACKBOARD JUNGLE (FR)
KING SHILOH (NL)
REALITY SHOCK ft. SOLO BANTON
STAND HIGH PATROL ft PUPA JIM (FR)
RADIKAL GURU ft CIAN FINN (PL+IRL)
PRINCE JAMO
ROOTS GARDEN ft KINGJAY + LEROY SAX
SLIMMAH SOUND (ROOTS TRIBE) (NL)
REALITY SOULJAHS
DUB TERROR (IT/UK)
MURRAYMAN ft. CLAIRE ANGEL (MELLOW VIBES)
JAH FREE
JAH REVELATION MUZIK (CECIL REUBEN+BROTHER CULTURE+MC TROOPER)
ARIES
DJ MADD
ALPHA STEPPA
RIDDIM TUFFA (SCT/SK)
PART2STYLE SOUND (JP)
ASKALA SELASSIE
CHAZBO + EMPRESS SHEMA (UK+JP)
IDREN NATURAL
ROOTS HITEK
RAS MUFFET (Mighty Talbot)
DJ DEREK
HYTAL BOSRAH
BLAKAMIX
WORD SOUND & POWER
REBEL LION
MA'KAYA SOUND SYSTEM
INSTRUMENTS OF JAH
KOSINE & DIALECT (Jungle Alliance Recordings)
UNITY HI FI CREW ft DEFCON ONE+CHRIS CULTURE+Special Guests
DUB SMUGGLERS
I-MITRI COUNTERACTION
DISORDA
HIGHNESS SOUND SYSTEM
EMPERORFARI
IBI SOUND ft JAH MARNYAH,
SALOMON HERITAGE ft RAS TWEED (FR)
DUBBLE ft MOLARA (CRO+UK)
AMP OUTERNATIONAL (GR)
JAH VOICE
JAH HAMMA
JAH LOKKO
JAH RAGGA
IRIELAND SOUND (IRL/DE)
KILOWATT SOUND
JAH YOUTH INTERNATIONAL
MAASAI WARRIOR SOUND
GOVERNMENT SOUND
EVERMOOR SOUND
KAYA FOUNDATION (RO)
PURE PHASE
EASTERN ROOTS
DUB CONDUCTOR
ROOTS GUIDANCE
I-MAN
BTSS
WONKEY HIFI
FELIS
ITEL ROOTS
FIREHOUSE
CHEFF
ROOTICAL
TEC-HO & MSB
BLISS ZION
KING CLEGG
VENUE:
Pontins 'Prestatyn Sands' Holiday Park
Central Beach,
Barkby Avenue,
Prestatyn,
Denbigshire,
North Wales,
LL19 7LA,
United Kingdom
Room 1: Running from around 8pm – 5am on Fri, Sat & Sun night with the UK's premier sound systems showcasing their systems in a traditional 8-scoops-each 'sound clash' (3/4 sound systems in one room taking it in turns to play on their own system for the duration of the night).
Room 2: Running from around 2pm – 5am on Fri, Sat & Sun night featuring DJ sets, stage shows and live P.A's from artists and producers and special guests from UK and Europe on a quality heavy bass sound system.
Room 3: Running from 11am – 12am on Sat & Sun. This room will be used to host the educational side of the weekender with lectures, workshops, master-classes & relevant films / documentaries being shown.
Room 4: The indoor heated swimming pool (+water slide) area: Running from 12pm – 5pm Sat and Sun. Both days there will be a sound system set up and DJs and artists hosting pool parties.
Room 5: The Pub: also including a stage and sound system this is an extra venue to showcase more music from upcoming artists and sound systems from the UK and Europe.
BUYING A TICKET / BOOKING A ROOM INFO:
Start by working out the size of the room you need (in other words how many beds are required) and choose from the configurations available (single beds, double bed or bunk beds).
One person books the room for all. For example, if you buy the early bird ticket at £95 and there are 7 of you, that's 7 x £95 (plus booking fee) and you have a room booked for you and your 6 friends (you can then work it out between you). Exactly like you would book a hotel room basically.
Our smallest size chalet sleeps 2 persons.
Our biggest disabled access chalet / apartment sleeps 7 persons.
For example a big 7-person chalet / apartment has a living area with kitchen including a 3-seater sofa that turns into a king size double bed (all apartments have that same main living room / kitchen arrangement), a bathroom with shower or bath and 2 bedrooms.
GETTING THERE:
Directions –
By Train: Prestatyn has its own station just a 5 minute walk from the venue and 1.5 hours from Manchester and 2.5 hours from London
By Car: Prestatyn Sands is based in North Wales just off the A548 near the town of Rhyl
To find out how to get to the Holiday Park, you can call Pontins on 0844 576 5943 and talk to one of our helpful Holiday advisors.
http://www.pontins.com/holiday-parks/prestatyn-sands/3d-map/
COACH TRANSPORT TO AND FROM THE WEEKENDER
UK 'TRAVEL ONLY' TICKETS WILL BE AVAILABLE ONLINE at…
www.eventztravel.co.uk
or by calling the HOTLINE: 07779 23 28 54
IF YOU NEED TO FLY INTO THE UK, BELOW IS A LINK FOR FLIGHTS IN AND OUT OF LIVERPOOL & MANCHESTER AIRPORTS…
http://www.liverpoolairport.com/
http://www.manchesterairport.co.uk/
FOR ALL RAIL (TRAIN) ENQUIRIES…
http://www.nationalrail.co.uk/
PLEASE CHECK OUR FULL TERMS AND CONDITIONS BEFORE YOU PURCHASE A TICKET…
http://unodweekender.tumblr.com/termsandconditions