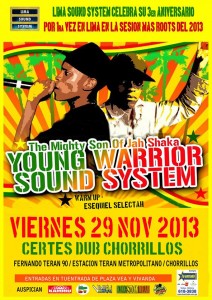 The ones who make reggae in Jamaica say the the roots are from Africa, but the original music started there, in Jamaica. One could think then that reggae made anywhere but Jamaica (like England) isn't that much original. What would you say to people who thinks like that?
Reggae music yes derived from the Jamaica but its popularity moved to the UK and that's where it has been held for decades. England pushed it to to the masses & even when reggae was big in Jamaica it was British companies manufacturing & distributing it all over the world, Now we see reggae bands coming from little corners of the earth & reggae acts touring in places past acts would have dreamt of or even never thought of.
It's a shame that Jamaica didn't realise what they had & gave it up for Dancehall;however with new young conscious acts like Chronixx, Protoje, Jah9 to name a few getting big media play by the BBC also with their dancehall acts now seeing how big roots is in Europe with festivals such as Sunsplash, Rototom, Geel etc they are now slowly recognizing roots is where it's at. People want positive progressive music not just something to dance to which will only be a hit for a few months.
You are son a legend of reggae. That put you the barrier very high and you overcome that generating your own unique sound. What do you do for being recognized for your music and not for others?. Isn't it a way to push you to the very best of yourself?
Yes being Shaka's son automatically raised the bar, i could not deliver myself to the world with any less quality than he did so i always make sure that everything i do is of the same standard. Sometimes it can be difficult but it's what has to be done & to take even more pride in the things i do, no matter how small however I wouldn't say i'm more recognised than others at all as there are many great sound systems & producers i listen to and appreciate highly; Everyone is just different. What maybe great to one person maybe rubbish to another.. it's each to their own
but yes it pushes me more & makes me even harder to deal with as i'm a perfectionist (laugh)
How was your experience on BBC with the megamix series of special songs for black history month? People started to looking at your music in a more massive way starting from that moment?
Working with the BBC was a great thing for sure! to be recognised on that level independently was amazing also to do it two years running due to the popularity of the first is another amazing thing. I was called to a private meeting with 1xtra & many things were discussed including reggae/dub in the mainstream so we give thanks that they wanted to play their part in that & that for black history month their normal 16-25 multi cultural listeners who normally listens to RnB, hip hop, dubstep & urban pop would hear where the music they listen to today takes inspiration from
Your father followers have developed dance steps that resemble African war dances. Do you have sounds that resembles the same? I mean, your name is young warrior. You are a warrior too.
Well as Johnny Clarke said "African roots" & also like Shaka says "Every drum you hear is an african beat". our beats are African, our Notes are African, our musical tone & colours are African so the only way we can move to it is AFRICAN!
Your sound is inspired by the roots of dub of the 70's and that's why you can connect with the elders but also with the youngers and the new generation. You play at discos and pubs. How do you make to connect with these people, of different ages and styles?
Well i have never played a pub! (laugh) however if i am called why not!?
I was & am inspired by an older generation however i am still a young person & grew up in these new times so i still listen to the genres & artists of today. I'm still experimenting to find a way to blend the two! but its been a great thing to see even 14,15 year olds love reggae, dub & sound system also want to attend our shows, its a blessing & without that it cannot carry on, like a baton it needs to be passed on to the next generation to run with so i'm always trying to push the young people i work with & promote as we are the future; not saying to forget about the elders but young people NEED to be recognised also & encouraged to take part in the movement
How do you imagine a dub night in Lima would be? Are we going to have a really special night of dub this 29th?
I imagine & hope it will be a bit like when I toured Mexico 2012, i was slightly shocked to see how up to date the people were with the music you know, as sometimes in smaller places you really have to think "Do they know reggae?",  "Are they ready?" but of course!; its 2013 most of the world has the internet & knows how to use itunes & youtube (laugh) so i will deal with the show just like how i deal with Europe or the UK but still always start with an introduction to the music as we must always remember there will be people in a dance which it may be their first time to hear reggae so you know you have to take your time with them & bring them in, not shake down the place instantly; that's not what it's about. There's a process & we take the people on a musical reggae journey, chapter after chapter…
Young Warrior plays a special one off show Friday 29th November 2013
@ Certes Dub Chorrillos – Lima Peru
Event Page: https://www.facebook.com/events/422630951169692