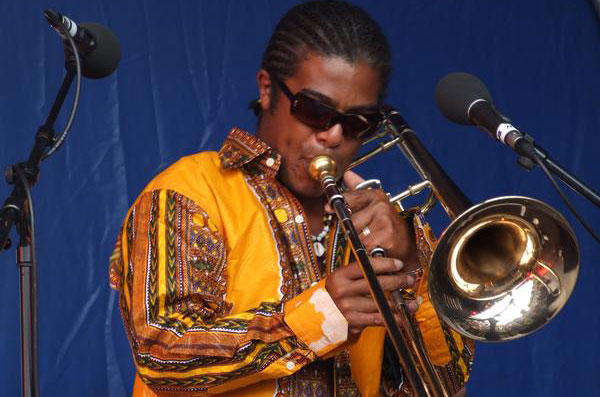 Matic Horns has powered his way to the forefront of the world of new roots and reggae music in recent years. His sound distills 30 years of reggae history into a cutting edge modern music that is both powerful and melodic. Henry "Buttons" Tenyue is an extremely talented trombonist who has worked with the cream of Jamaican talent, from Gregory Isaacs and Freddie McGregor to John Holt and Luciano, and alongside the biggest names in the UK, from Aswad and Maxi Priest to UB40 and Soul II Soul. Matic Horns are also closely associated with the new wave of roots movement that has gripped Europe and America, inspired by the sound system culture of the legendary Jah Shaka. This collection finds him teaming up with top roots vocalist and producer Mike Brooks to blow over a classic selection of rhythms. Classic Bunny Lee productions like Mr Chatterbox and Beat Down Babylon rub shoulders with Keith Hudson's Old Fashioned Way, as Jamaica's finest musicians, including Sly and Robbie and the Roots Radics, brew up the heaviest sounds for Buttons to blow his magic over.
The album also features some classic Mike Brooks productions like Soldier On The Corner, as well as a sparkling new track mixed by Gussie P featuring Mafia and Fluxy. Every one is a solid gold classic. Inspired by the spirit of the Skatalites' Don Drummond, Matic Horns are blasting reggae music into the next century. It has taken some two years, but now London based Reggae and Dub producer Gussie "P" has finally released the (vinyl only) album of Henry "Buttons" Tenyue entitled "400 Years" as part of a new series of so-called 'Showcase' albums, which furthermore features sets from Twinkle Brothers, Earl 16, Danny Red and Robbie Valentine. Internationally known as Matic Horns, Henry "Buttons" is an accomplished and highly sought after session musician whose distinctive trombone sound can be heard on many roots and dub works produced by UK producers such as Ruff Cutt, Stingray, and Mafia & Fluxy and the aforementioned Gussie P. Over the years Gussie P, who knows Henry Buttons from his early childhood, has released quite a few — often hard-to-get — 7″, 10″ and 12″ singles and compilation sets which featured tracks from Matic Horns. But now Henry Buttons' mastery can be heard on this long-awaited "400 Years" album, on which he blows hard across some of Gussie P's tuffest Steppers and One-Drop riddims, laid by Mafia & Fluxy, Marley, Chris Lane, and Gussie P himself. Each roots instrumental and its dub version is given the Gussie P treatment, i.e. expertly mixed hard edged roots tracks, with on top Henry Buttons' beautiful trombone playing.
As each track has its own merit, it's almost impossible to point out standouts. So lets just mention our personal favourites, which are "400 Years Of Dub", "Sabayindah" and "Call Of El Shadday". In the latter one can hear Henry Buttons blow the first (lyrical) lines of Van Morrison's "Moondance". All in all an album which is worth of hearing from beginning to end… and then… pull up and come again!! If you're lucky to come across this Matic Horns albums don't hesitate to buy, because it might be your only chance to purchase these marvelous collection.