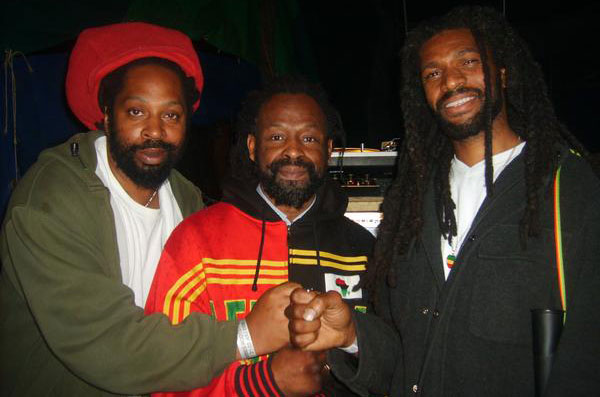 Ras Kinfe and Ras Gabre formed a strong bond while attending the Lion of Judah Church. Both being collectors of music, interested in Sound System and the Zeal to Testify Haile Selassie 1st. Mighty Tabot started playing on the club circuit while building of the sound system was in progress. I.e. Rachel's wine bar and Roots Studio sessions e.g. Troy Bar, Charlie Wrights etc., London. Mighty Tabot also played on Luton's Irie FM Radio.
Later Ras Kinfe met up again with the legendary Ras Muffet and the Trinity was formed. So with Hard Work, WORD: Ras Gabre on the mic, SOUND: Ras Muffet at the controls and POWER: Ras Kinfe providing the Sound System, The Mighty Tabot has been gaining a reputation for Spiritual and Uplifting vibes along with unique dubs/muzik, many of which are produced by Ras Muffet /Roots Injection. Mighty Tabot has played alongside, Aba Shanti, Channel One, King Earthquake, Hytal Bosrah, Jah Voice, King Shiloh, Word Sound and Power, King Alpha. Mighty Tabot is mindful of balance in creation.
Order Established by HIS IMPERIAL MAJESTY and EMPRESS MENEN. Therefore works/word of The Empress is very much at the forefront. Also any who may not be known but have a positive Word Sound to share.
Mighty Tabot would like to thank all the people who have given their support. Special mention to Roots Studio as the two started out at the same time and have supported one another other to a point of notoriety. For as the saying goes "one hand can't clap." Psalms 19:14 Let the words of my mouth, and the meditations of my heart, be acceptable in thy sight, O Lord, (JAH RAS TAFAR I) my strength, and my redeemer. Psalms 87:7 as well the singers and players of instruments shall be there.