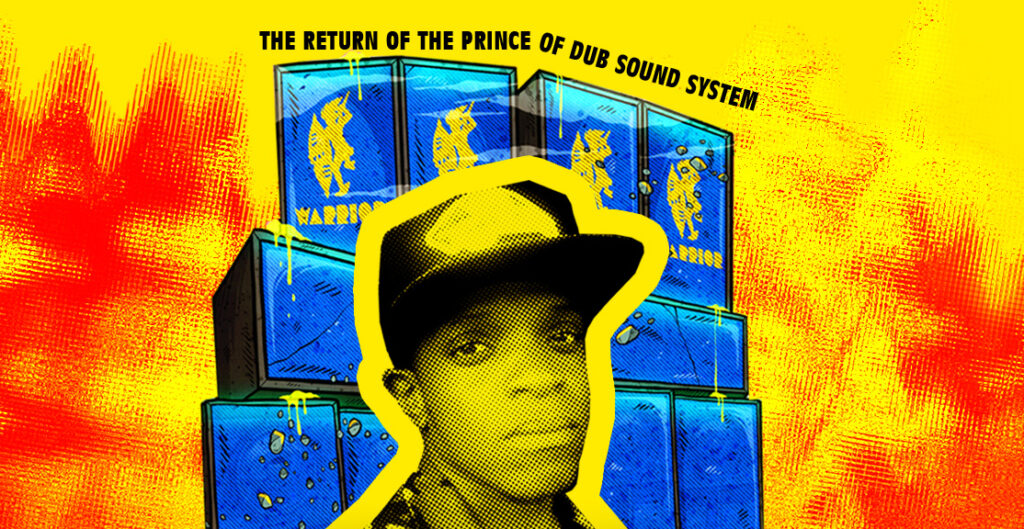 Young Warrior 'The Prince of Dub Sound System' is one of the cornerstones for the next generation Dub Reggae movement and also happens to be son of the historic dub legend Jah Shaka.
Playing out for numerous years all over Europe & the world since 2005 he has developed his own unique, refreshing sound and unifying message generating such a wide following across the globe.
The Young Warrior has worked as a producer for many years now working with the likes of Jah Shaka, Gussie P, Mafia & Fluxy, Johnny Clarke, Sly & Robbie (TAXI), Ras Muffet (Roots Injection), Little Roy, Addis Pablo, Toddla T (Ninja Tune), Michael Prophet, Jungle music pioneer Congo Natty, V.I.V.E.K from Mala's dubstep outfit SYSTEM/Digital Mystikz to name a few crossing the Dub world into the Dubstep world.
Listen: Congo Natty – London Dungeons Dub (Young Warrior Remix)
Young Warrior is not just a DJ but also an independent music producer; He has produced songs with ever rising UK female artist Lexxy, South East London's well known Rockaway, Sandeeno, The Twinkle Brothers, Sister Beloved, Yami Bolo, Jamaica Based duo The No-Maddz, Roger Robin and many more locked away in his musical vault. Young Warrior's released albums include titles; Dub Box, 312 Various Artists, Know H.I.M by Principal, Woman Of Virtue by Sister Beloved. Many of Young Warrior's productions have been played by sound systems like Iration Steppas, Jah Voice, Tabot sound, Channel One Sound System and most of all the great Jah Shaka Sound System.
Listen: Young Warrior Presents 312 Various Artists Album
In August 2006 Young Warrior gave a special one off interview for the BBC on BBC Three counties radio with Ras Kush of which gained listeners all over the world tuning in to hear the Young Warrior talk personally for the first time in this one away interview. He has also been featured in the well known modern Sound System documentary 'Musically Mad' & in 2018 Idris Elba's box office smash Jamaican Sound System Themed motion picture 'YARDIE'.
In 2011 Young Warrior was asked to represent UK Dub & Reggae on BBC 1Xtra for black history month on DJ & producer; Mistajam's 'Daily Dose' audio documentary aired across the whole of the UK entitled 'Daily Dose Of Dub'; which saw him talking about his own various musical experiences and also giving an introduction to Dub music for 1Xtra's fellow young listeners. These series of shows which spanned across three days became so popular among listeners he was asked to return in 2012 & gave an exclusive sound system style megamix series of special songs for Black History Month.
Listen: BBC 1xtra 'Daily Dose Of Dub' with Young Warrior
The Young Warrior's DJ sets which started his public career have taken him far & wide and has a very new however old school sound with him playing roots & culture Dub music from the 70's up to present day's Reggae & Urban Icons such as Chronixx, Jah9, Xana Romeo, Groove Armada, Koffee, Micah Shemiah, Greentea Peng, Jessie Royal, Lila Ike however unsurprisingly all played in the traditional Shaka warrior style!
Young Warrior's musical delivery connects with the elders who attend the traditional Jah Shaka dances but also with the younger and new generation giving them a piece of his own musical modern but foundation message.
In 2011 after 6 years of intense public demand & Young Warrior just doing DJ sets he launched his very own custom built sound system at Dubwise Festival 2011 at The iconic 'Brixton Mass' music venue alongside next generation sound system player King Alpha for a definitely unforgettable night.
Since launching his own sound system he has headlined bills alongside many well known sound systems such as Iration Steppas, Jah Tubbys, Jah Youth, Channel One, King Shiloh, Aba-Shanti, King Earthquake & many more.
Young Warrior is not just an Artist, Sound System, Producer, Presenter, Public Figure, Dub Mixer, Entrepreneur and Activist but also a promoter creating his own events organisation 'Dubwise Festival' in 2009 which he set up to establish and give a large stage for any up and coming young artist, DJ or sound system in the Dub Reggae sphere. His events included 'The Reggae Garden Party' a family themed outdoor sound system event, 'Dubwise Festival Notting-Hill Carnival celebration' , 'Dub meets Jungle UK Tour' & monthly sound system events across the UK including London's 4,000 capacity Coronet music theatre.
Through his organisation he has given stage to ViolinBwoy, Alpha Steppa, Ital Power, Maasai Warrior, Michael Prophet, Teshay Makeda, The Twinkle Brothers, Sisters In Dub, Willie Williams, Alpha & Omega, Caya Sound, Jah9, Unit 137 and has also been responsible for many of todays UK notable Reggae new wave artists first major performances.
In 2012 with his organisation 'Dubwise Festival' he leant hand to establish & Launch the now Birmingham's biggest premier Dub sound system event, 'OneDub' at the Rainbow Warehouse UK. This launch event in would be the very first time taking his entire sound system on the road for the very first time in two lorries & taking over such a massive 3,000 capacity space alone. To date many people still talk about this night as one of the best & long awaited events to take place in Birmingham. Following his sucess in Birmingham Young Warrior was asked to represent the City at the international and critically acclaimed Red Bull Culture Clash 2014 where he came 2nd place.

Listen & Watch: Young Warrior Sound System Launches ONEDUB Birmingham
In March 2013 Young Warrior took part in one of, if not the biggest Dub 3 day festivals in the UK rightly called 'The United Nations Of Dub Weekender' in Wales. With so many names to mention he was selected out of so many with 6 others including his father Jah Shaka of course to bring their sound systems and headline the main arena.
Watch: Young Warrior Sound System closing the 'United Nations Of Dub' Weekender
To date Young Warrior has brought his sound system & also DJ'd in festival main arenas such as Dub Camp Festival, Reggae Geel Festival, No Logo Festival, Irie Vibes Festival, Dour Festival & Waking Life Festival to name a few whilst also completing 3 South American tours and performing in countries across Europe from Russia to Sweden to Germany, Croatia, Ukraine, Ireland, Spain, The Netherlands and the list goes on!
Watch: Young Warrior closes Dub Camp Festival 2016
Listen: Young Warrior live in Colombia
In 2017 while paying homage to his Jamaican Roots; Young Warrior returned to Jamaica for 5 months to reestablish and become apart of the 'Reggae Revival' moment which saw him and his father Jah Shaka playing a sold out exclusive special two night show at the groundbreaking 'Kingston Dub Club' located in Jacks Hill, Kingston next to the Marley Family.
Click To Listen: Young Warrior at Kingston Dub Club
In 2019 Young Warrior was commissioned by BBC world service to host an audio documentary exploring the Roots and Caribbean inspired pop music called 'British Music's Caribbean Roots' which saw him working with David Rodigan, Don Letts, Dennis Bovell, Marla Brown daughter of Dennis Brown, Alexander D'Great, Peckings & many more of UK's Musical Reggae & Caribbean music's Founders. The documentary was aired worldwide on many streaming platforms and even on aeroplanes in the sky through the BBC World Service radio app.
Click To Listen: BBC World Service 'British Music's Caribbean Roots'
Young Warrior has collaborated with organisations such as MTV, Sound System Outernational, Sonic Street Technologies, Goldsmiths University, Lewisham Council, London Southbank, The British Arts Council, World Mental Health Day, University Of The West Indies & V&A Museums.
Young Warrior has formed some amazing working relationships with so many huge international organisations & cross genre artists in order to keep Dub Reggae Music seen & heard in the mainstream. He is an instant name to be called to represent today's Sound System culture wether musically or academically.
Young Warrior has without doubt earned his title as the Prince Of Dub Sound System!
Look out for the Young Warrior spreading his own special message to the people all over the world!
Social & Booking links:
▪️www.facebook.com/youngwarrioruk
▪️Tweet/Instagram: @youngwarrioruk
▪️Tik Tok: @youngwarrioruk
▪️Bookings/info: FRANCE [email protected] – UK & OTHER [email protected]
▪️More Events: www.facebook.com/youngwarrioruk/events
▪️Listen to live shows, interviews & Young Warrior documentaries www.mixcloud.com/youngwarrioruk
▪️ Young Warrior on Spotify
https://open.spotify.com/artist/3ezgGJ4MwdVDNiBfwMThHO
Past events include:
The Dubwise Carnival Festivals
Mexico 3 date tour March 2012
Reggae Geel Festival
Young Warrior meets Dubateers – Nov 2010
Young Warrior meets King Earthquake (Teachings in dub + Tokyo Dub)
Dubwise ft. Dub Judah – Ghent Belgium
Geneva Dubclub ft. Dubkasm & Cultural Warriors
Jungle dub splash ft Iration Steppas & Murray Man (London 2011)
UK's New women of reggae parts 1 and 2 featuring Lexxy, Sister Beloved, Sister Eartha Zakeyah & Principal
Subdub (2007-2011) – Leeds with Iration Steppas sound system
Geneva DubQwake with OBF, Coptic and Lion youth sound system
Ireland with Rootical Sound & Mighty Tabot Sound System
Festipop Music festival 2008 (South of France)
Anually at Brockwell Park Town and country show (London)
The original DubClub reunion at Cargos London with JNR International
La Manekine with Irdren Natural, Coptic sound, Community sound system 2007 (North of France)
Sat 7th July 2012 : Young Warrior Sound System & Channel One @ The Music Cafe Leicester
Fri 10th August 2012 : Young Warrior Sound System @ ONEDUB – Rainbow Warehouse Birmingham
Sun 26th August 2012 : Dubwise Carnival Festival – Brixton Jamm London
Fri 7th September 2012: Young Warrior Sound System & Jah Lokko Sound @ Bristol Dub Club – The Black Swan
Sat 15th September 2012: Young Warrior Sound System & Unique Sounds System @ Bar A Bar – Stoke Newington Road London
Fri 5th October 2012: Young Warrior Sound System & Jah Tubbys & King Shiloh @ Tudor Rose Southall
Young Warrior's recent releases include:
Rockaway meets Young Warrior – Chapter One 12" (1st solo produced album) YW005
Young Warrior Presents 312 Various Artists (yw009)
Young Warrior Presents Sista Beloved – Woman Of Virtue
Young Warrior Presents Principal – Know H.I.M
Young Warrior Presents Dub Box (yw008)
Stop your fighting 7" – Rockaway
Word is Jah 7" – Principal
Freedom Of The Land – Sister Beloved 7" (Jah Shaka Music Label) YW002
Lead Me To The Rock – Lexxy 7" (Jah Shaka Music Label) YW0001
Download Young Warrior Albums HERE