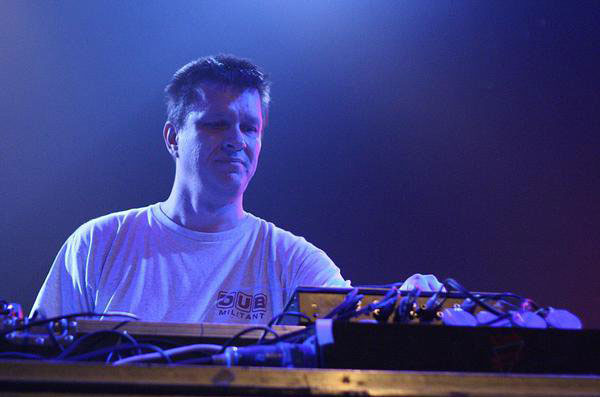 Disciples is Russ D. producer, musician, engineer on the uk reggae and dub scene since 1986.
Originally Disciples were brothers Russ and Lol who produced music for legendary uk sound system man Jah Shaka, it was Shaka who gave us our name, we recorded 4 albums for Shaka from 87 – 91. I later formed my own labels Boom Shacka Lacka and Backyard Movements, the former for uk dub styles, the latter for roots vocal styles. In ..91 we also built our own sound system which we ran for 5 years before packing away the boxes for good. My brother Lol pulled out of the music biz and i continued to forward my studio and productions as well as continued dj'ing around the world with long time friend and micman Jonah Dan.
I have worked with a number of artists over the years including Sister Rasheda, Rootsman & Dayjah, Delroy Dyer, Creation Stepper, Candyman, Wayne McArthur, Prince Allah, Prince Malachi, Mykal Rose, Color Red, Lutan Fyah, Ras Macbean, Christine Miller, Bunny Lie Lie, Danny Vibes, Tenastillin, Tony Roots, African Simba, Sis Nya Azania, Avaran, Murreyman and many more, as well as productions and remixes for the likes of Inner Sanctuary, Alpha & Omega, Jah Tubby..s, Twilight Circus, Cultural Warriors, Jah Warrior, Universal Roots, Roots Hytek, VI Connection and others, with something like 20 plus albums and over 60 singles released so far on my own and various labels. Works continue from strength to strength !….. respx Russ d.
Anyone who is a serious bass devotee and follower of roots and culture is going to be aware of The Disciples and their releases, featuring towering, monolithic bass lines and searing percussion. ??From the pounding disciplined force of "Resonations" and the kinetic funk of "Arrival" to the bass meditations of his work on Jonah Dan's Inner Sanctuary label onward to his recent explorations into a more spiritual sound, all of his works have rejected slavish convention and cliché. ??I caught up with Russ D, the main force behind Backyard movements/ Disciples Rhythm section in his recording studio. A peaceable man with a gentle and direct manner, he invited me to discourse in his studio, the source of many a subterranean bass experiment. It is a small studio, full of good vibes. All manner of African percussion instruments adorn the walls, and a large original painting of Jah Shaka holds pride of place, high on the wall. ??Our conversation ranged from a discussion about the time when a much younger Russ D made his way to Jah Shaka's African art and craft store in Dalston South London, to ask him if he was interested in the early Disciples dub plates, to the wider subject of avant garde Jazz, with Russ professing his love of Alice Coltrane's music: the pounding bass lines on Coltrane's "Journey In Satchitananda" and Pharoah Sanders "Upper and Lower Egypt". ??It is clear why Russ has always been such an innovative influence within the UK roots scene and beyond. ??This is how our discourse, reasoning and investigation ran: Step forward the bass innovator, Russ D. ??When you are looking for bass sounds, how do you go about creating a deep, heavy rich vibration in your music? Is this different from the bass sound you look for when you create bass in your sound system?
"With sound system, from my background, we like our bass loud and heavy: heavier, beyond most other music forms. Let me tell you a story. One time we did this sound system session down in Exeter. The promoter had booked my sound, Iration Steppas and some Junglist and drum and bass dj's. We set up the sound, duly tested it out, and everything sounded boom. So Iration was doing his live set, running his mixer and bass through our system. Everything was good. The jungle dj's were due on before us, and they had their own decks set up and running through my system too. They came up to me and said the bass was too heavy! I was amazed; I'm thinking "What! You are junglists yet you say the bass is too heavy? That doesn't make sense!" Anyway, we turned it down for them, but when we came on later, bass was full boom to the max, and we mashed the place down! ??For us, the bass is all important and comes secondary to nothing. We do manipulate the sound, sometimes rolling in the bass so it seems to be coming in from beneath, other times we just draw for the hardest possible bass we can create, lifting up the upper bass frequencies, powering them into distortion, twisting the sound from hard, to deep, and back again, then onward to air shaking proportions. This is pure vibration rather than tone. Bass dynamics in all its possible ranges." ??Why is it that a reggae bass captures people so much, the hypnotic element of a strong b line when it drops: you feel it in the abdomen, rising up through the solar plexus up to the chest. Why is the vibration of that intense bass signal so attractive?
"Reggae bass holds the melody of the whole tune, probably more so than in any other music forms. And it does so hypnotically. It does so relentlessly. However, the WHOLENESS of this music, all that it implies and involves, mustn't be overlooked or overshadowed by complete emphasis on bass resonations alone: When I first heard reggae many years ago, I heard Dr. Alimantado chanting, I heard Pablo's floating melodica melodies, I heard King Tubby doing things with music that very few others had ever done before. It was many years later when I experienced Shaka, that I fully realised the full impact of bass." ???Can we talk now about subsonic bass tones, or bass signals which fall below 30 hertz. (Jah Wobble named his record label "30 Hertz" in homage to these subliminal bass movements) If anyone has insight into subliminal bass tones, it's going to be a bass addict such as yourself! Can you speak about the use of bass tones so deep it isn't a sound anymore, but a resonance, a feeling, like a wind force. Apparently the human ear can take in specific sounds, but below 30 Hertz, the signal breaks up. Bass then becomes a felt and experienced phenomena rather than a heard phenomena. The effects of these sub tones on the human mind, form, sensibility and psyche have been researched for some time now. What's your experience of these sound forms? ??"Currently in the UK sound system scene you have sounds that use a massive amount of speakers and amplification: 600 watts, 18″ speakers in huge scoop bins mounted on top of each other and spread around the venue. And these are powered by massive custom built amps. The very essence of the scoop bin is to "push air", disperse sound. Many sounds totally rely on this sometimes overwhelming sound vibration, in which the sound is felt rather than heard. When I make music I strive to attain a combination of "felt" and "heard" bass tones, a combination of sub power and bass tone. A sound operator should be able to manipulate frequencies as much as possible, to explore as many bass tones and forms as possible." ??Can I quote drum and bass front runner Goldie for a minute here? "Standing in front of a speaker listening to dancehall reggae made me realise how real urban black music was. There I was one night, with my rum, in my sheepskin coat, sweating, and the bass was ripping through me. I remember walking out and just being sick everywhere! The rawness of the sound, those guys would just take music and fuck with it! With hardcore lyrics about Babylon, I got really turned onto music by those guys!" That is a powerful quote about Goldie's initiation into "bass culture." Can you tell me about your initiation into sound system culture, or any intense experiences with bass dynamics?
"Let me tell you about our initiation in to sound system and our initiation into that world, which came through Jah Shaka. You check out a sound system like that, and the only word to be used is intense, with a bass vibration thrashing around. Now once you hear that, well, we decided we wanted that serious intensity too, for sure. I'm looking for that depth in my sound. ??Many years ago, when I first attended a Shaka dance, I didn't really know what to expect. I remember being in the hall as his sound was set up, taking it all in, the intense atmosphere. I didn't know what I was letting myself in for! Shaka started tuning up his set. The tweeters first, then the mid-range. All well. Then the bass rolled in, and Shaka just LIFTED it, real heavy. It hit my chest and I thought I wouldn't be able to breathe again. It was intense: The bass just TEARING it up. All of a sudden, this music made a lot more sense. After that ALL reggae made a lot more sense." ??What of extreme experiences with bass on your sound system? I remember hearing that sometimes when Boomshakalaka played out live, even if the bass cones blew, you just ran with it and let the music play, letting the new distortion just add to the vibe. ??"We always played our sound to the extreme. In the sound system background I come from, we don't use compressors or limiters to tame the sound or keep it safe. When we played we used ALL of our sound, we used to drive it hard. The importance was always the vibe and deep experience we were striving to create for our listeners. The bass would push into distortion, making the boxes actually start to vibrate like a drum, which in turn creates its own tones: Pure vibrations going on." ??Which bass sound, production and engineering has influenced you the most? ??"For sound system obviously Shaka: I've not heard any one achieve the depth and variation of bass tones he was able to achieve. For production, Scientist. He had an extraordinary ability to manipulate sounds. It must be said that King Tubby's was probably more subtle." ??What is your motivation behind your obvious commitment to, and deep love of this music?
"When I make music, I make music with a message, and that runs very deep with me. I hope people pick up on this you know, because it is very important to me. This is what I feel. Reggae music is music of the heart, so it has to GET INTO your heart. You have to ask yourself, why are you checking out reggae? It's heart music, message music. Energy music. I feel this music that I play." ??????How would you analyse, or define why roots has a deeper more penetrating power than dancehall, and why does it seem to make a more enduring and lasting impression on people? ??"Well, the dancehall or bashment vibe doesn't really ask any questions of the listener, it doesn't demand anything from the listener. Roots music is compelling. Mentally there is a focus and certain seriousness, a depth present." ?? Thank you for your time, Russ Disciples.